Niche socks knitting services.
Custom socks for performance, medical, and special needs.
Services
Socks Knitting
Specialty Custom Socks
Specialty Custom Socks
With the technical knowhow of our experts and advanced knitting machinery, we work closely with our clients to produce some of the most innovative socks on the market today. Clients routinely work with our designers to incorporate advanced materials, special knitting, elastic properties, and cushioning, along with their custom logos/designs to make niche, high-end products. Our designers and technicians have decades of experience with our fleet of top Italian machines with Lintoe seamless toe closure capability.
Our specialty custom socks include niche medical, outdoor, sport, and luxury socks made using premium and innovative yarns such as merino wool, mercerized cotton, Kevlar, Coolmax, and others. With a range of single and double cylinder sock knitting machines capable of producing a variety of specialty socks, Dixie Dyeing supplies custom socks to boutique stores and global brands alike. Our diverse set of machinery means we have the right equipment to make your socks, so there's no need to compromise or cut corners when it comes to producing your product.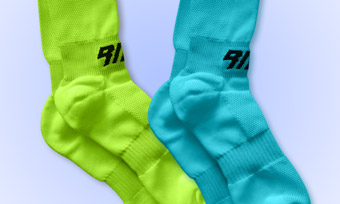 Key Services
Custom performance socks for sports teams
Custom medical socks for foot conditions
Luxury dress socks for bespoke clothing stores
Limited edition and exclusive socks for brands
Safety socks for sports and emergency response
Commission knitting for niche and global brands
Features &amp Benefits
Best Knitting Machines
Advanced machinery capable of making specialty socks—Ready to work for your brand.
Knitting Experts
Experienced staff trained to help design your custom socks—Knowledgeable service.
Low Minimums
Test markets and get customer feedback with low minimum order quantities of 300 pairs.
Yarn Selection
Access to global suppliers of specialty, innovative, and proprietary yarns.
In-House Dyeing
Precise custom dyeing of yarns is done in-house for speed and quality control.
Short Lead Times
Small orders delivered in as little as 3 weeks—Because your brand demands it.
Lead time & Pricing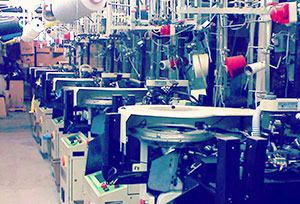 Dixie Dyeing's range of top knitting machines, in-house dyeing capabilities, and knitting expertise means our clients get ultimate choice and control over product development. Most small orders are completed within 3 weeks. Customers requiring higher quantity or special order yarn may experience longer processing times. Rush service may be available depending on your needs. Whatever your customization needs – our designers are here to help you with your custom socks.
Minimum order quantities for our specialty custom socks start at 300 pairs. Prices for specialty custom socks vary widely depending on materials and features. To learn if our manufacturing capabilities suit your needs and to request a quote, please do not hesitate to contact us. Be sure to include a description (or photo) of the basic specifications you require (material, length, size, quantity, purpose).